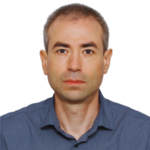 About me
Hello and welcome to my website! I am an experienced digital marketing and web development professional who can help you discover and grow your online business by following the latest trends and innovations in the industry. With over 12 years of experience as a freelancer, I have worked on numerous projects, applying modern practices in web design and front-end development of WordPress-based sites.

As a client of my freelance business, you will benefit from my expertise in integrating e-commerce functionalities, membership systems and mobile applications, as well as my ability to implement artificial intelligence strategies thanks to my many certifications in this field, including Google Cloud Machine Learning and TensorFlow Fundamentals. I will help you define your competitive advantages and plan your content publishing based on good SEO practices and the use of data analysis to improve user experience and attract more potential customers.

In addition, I specialize in creating engaging content for blogs and social networks, which involves the use of modern technologies and tools to increase the reach of your audience. Working with me, you will receive personalized service and professional solutions that will give you a competitive edge in the dynamic digital market. Do not hesitate to contact me if you have any questions or if you would like to discuss the possibilities of cooperation.
Certificates
Web development
AI
Computer programming
Cloud platforms