What is the best e-commerce platform in 2020?
Choosing the best e-commerce platform is a great decision and it will have a long-term effect on your endeavor. This is also a difficult decision, with many different variables to consider. I want to say that choosing the best e-commerce platform is like choosing the best car. I will help you with that today! The following is an in-depth comparison of the best e-commerce platforms on the market.
This guide will help you find the best e-commerce platform for your individual needs. We will look at a number of features and functions offered by the top leaders in the e-commerce industry, and then indicate which will be the best e-commerce platform for different types of users.
Top 5 best e-commerce platforms
When choosing the final lineup, I decided to focus on several factors: popularity, overall reputation, features, customer service, pricing and ease of use - all based on preliminary tests and my previous experience with the platforms.
We will look at the following e-commerce platforms:
What about all the other e-commerce platforms?
Okay, so the first thing that everyone realizes when they start looking for the best e-commerce company for their next project is the general abundance of software in this market. In case you are not up to date, here are all the platforms that I considered the best e-commerce platform:
Wix, Shopify, WooCommerce, BigCommerce, Magento, Jimdo, LemonStand, Volusion, OpenCart, osCommerce, Spark Pay, 3dcart, Big Cartel, Squarespace, Selz, Gumroad, Storenvy, Weebly, E-junkie, SendOwl, Ecwid, X-Cart, PrestaShop, FoxyCart, ZenCart, MoonFruit.
These are all popular e-commerce platforms that have their own communities and dedicated users. And, of course, they're all called the best e-commerce platform on the market… but that's the way it is, I guess.
However, when building a comparison like this, we need to narrow things down so that they are easy to digest and focus on the real leaders in the industry. We will do that now.
---
Round 1: Who wins the popularity contest?
While Shopify is probably the first name most people think of when they hear "e-commerce", the real leader in e-commerce is WooCommerce (chart from Visualizer).
This is data from BuiltWith.com and according to these figures WooCommerce has ~ 25% market share as a whole - in the whole network. Does this mean that WooCommerce is perhaps the best e-commerce platform of all? Things may not be that simple.
A quick look at Google Trends over the last 15 years - which, I admit, is not 100%'s exact source of market trends - we can see a few interesting things:
* I did not include Wix e-commerce because it is impossible to distinguish between people looking for the general builder of Wix websites and its e-commerce functionality.
First, although it is the first in terms of market share, WooCommerce is not the winner in Google's "interest in time" index. He is behind Shopify (currently holding the crown) and is almost on par with Magento (leader in 2014).
When we reduce it a bit, we can see that the e-commerce space has been dominated by Magento for most of the decade, with Shopify being able to overtake it around ~ 2014 and WooCommerce ahead of Magento in ~ 2017.
Okay, but what does that tell us?
Everyone has their own way of looking at Google Trends, but keep in mind that Google's "interest in time" metric only refers to the popularity of search terms - such as how often people search for something - but that doesn't matter. what happens next or what is the best e-commerce platform. In other words, it doesn't tell us much about the number of registrations, the number of users, the number of active sites and so on.
The only thing that basically shows is how popular the idea of something on the web is. Shopify is just becoming more popular in this regard all the time. They advertise in several places, new people learn about the brand every day and then search for Shopify on the web.
This doesn't make Shopify the best e-commerce platform, but it certainly makes one pay attention and take a closer look. Which we will do.
---
Round 2: Features
Let's start by looking at the more remarkable features of each of our e-commerce platforms. Although you can find all this information on the official website of each platform, it is always good to look at it in one place. Therefore:
| Shopify | WooCommerce | BigCommerce | Magento | Wix eCommerce |
| --- | --- | --- | --- | --- |
| Subscription service. | Standalone software (must be installed on a web server). | Standalone software + subscription service. | Subscription service. | Subscription service. |
| A subdomain and hosting space is included for your e-commerce store + you can link your own domain name. | It is part of your existing WordPress website and is deeply integrated with it. | A subdomain and hosting space is included for your e-commerce store + you can link your own domain name. | A subdomain and hosting space is included for your e-commerce store + you can link your own domain name. | A subdomain and hosting space for your e-commerce store + free domain username (or connect your own) is included. |
| Product management functions. | Product management functions. | Product management functions. | Product management functions. | Product management functions. |
| Order management functions. | Order management functions. | Order management functions (+ delivery fees). | Order management functions. | Order management functions. |
| Multiple payment systems. | Multiple payment systems. | Multiple payment systems. | Multiple payment systems. | Multiple payment systems. |
| Basic customer management. | Customer management only through third-party plug-ins. | Customer management through customer groups and others. | Basic customer management. | Basic customer management. |
| 100+ professional topics, plus hundreds more from third parties. | Thousands of topics available online (free and paid). | Several topics available online. | 100+ professional topics. | 500+ professional templates. |
| Suitable for mobile devices + you can directly edit HTML and CSS. | Suitable for mobile devices as long as the theme provides it. | Structure optimized for mobile devices. | Suitable for mobile devices. | Suitable for mobile devices. |
| Unlimited traffic. | Traffic depends on the host. | Traffic depends on the host. | Unlimited traffic. | Unlimited traffic. |
| Good reports on sales and store activity. | Good reports on sales and store activity. | Extended and in-depth reports on sales and operation of stores. | Great analysis module, with reports, shopping funnels, abandoned cart statistics and much more. | Relatively good reports on sales and operation of the store. |
| Discounts, gift cards and coupon codes. | Discounts and coupon codes. | Discounts and coupon codes. | Discounts and coupon codes. | Discounts and coupon codes. |
| Various sales channels, including a point of sale, a Facebook module, a simple buy button and more. | Thousands of extensions are available. | Over 5,000 extensions are available. | Allows you to sell in person with Square, as well as sell in online markets and social platforms. | Hundreds of Wix applications available. |
| Thousands of Shopify apps are available. | | Built-in multilingual support. Bulletin functions. API available. | | Built-in dropshipping via Modalist. |
Comparison of the characteristics of the best e-commerce platforms
The thing you need to realize right away is that each of these e-commerce platforms offers basically the same set of "key e-commerce features" - features that are essential for any online store.
The devil is in the details, so when choosing the best e-commerce platform for yourself, you probably need to focus on things that are more niche in nature, but can mean the world to your business. And the full list of them can be huge, so I urge you to do your own research and in-depth comparison, once you have a general idea of the platform you want to try.
For example, Shopify has its POS (point of sale) system, which allows you to sell your products on the go or in your physical store without paper, without additional tools or e-commerce machines - such as external cash registers and more. This can reduce your overall store management costs.
Note. I don't think I need to make statements like "I like managing WooCommerce's products better here than Shopify", because that's not really of much value in the discussion. I'm just a human. User. And my opinion of the best e-commerce platform is no more important than the other person's. Inevitably, the way WooCommerce does something, for example, will be better for some of you than the way Shopify does it. And vice versa. So the key here is to check all these features for yourself and compare which platform just feels better.
With this in mind, when it comes to the best e-commerce platform based on the overall wealth of features that each platform can offer, I would rate them as follows:
I know this may not seem so useful at the moment, but please be patient. This assessment boils down to Shopify's overall focus on providing almost any feature that a store owner can take advantage of, not just dedicating 100% to an online presence. Simply, Shopify is the only player here that is equally suitable for you to work online and offline. But again, this is my personal opinion.
---
Round 3: Available designs
Then let's talk about the best e-commerce platform when it comes to customizing your design.
(Not only ready-made designs, but also the overall capabilities of the platforms when it comes to customizations and adjustments to what the finished store looks like).
Let's look at them one by one:
---
Designs in Shopify
Available in Shopify designs are very impressive, modern looking and should be able to cover almost any niche or type of business.
The only downside is that there are currently only about ten free themes. Shopify seems to be reducing the number of free themes. I'm sure there were more a few years ago. As for paid topics, their prices are around $ 160 - $ 180 per piece.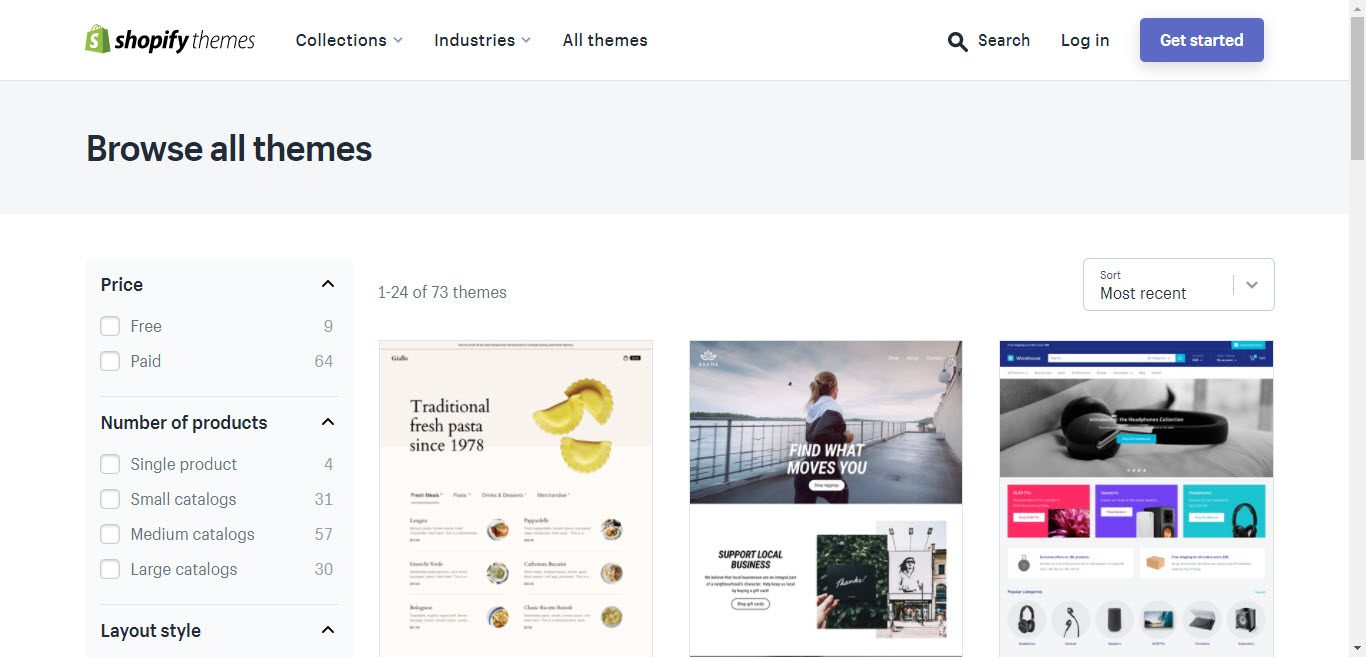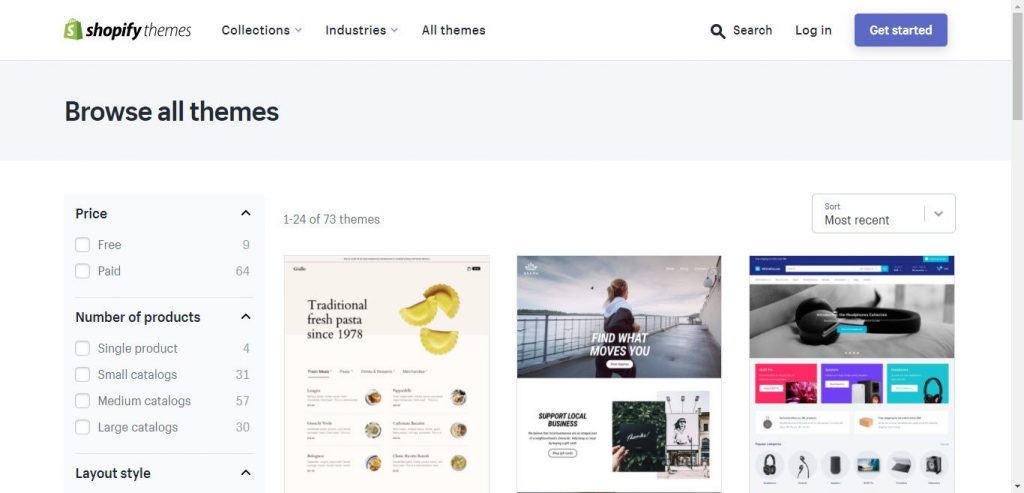 Note only; when looking for a design, you do not need to pay so much attention to the specific type of products presented in the demo - they are just an example and do not determine the purpose of the topic.
Once you choose a theme, they can all be adjusted quite well, including things like the header, footer settings, typography, colors, presets, and more. Of course, you can also set backgrounds and images exactly as you need them.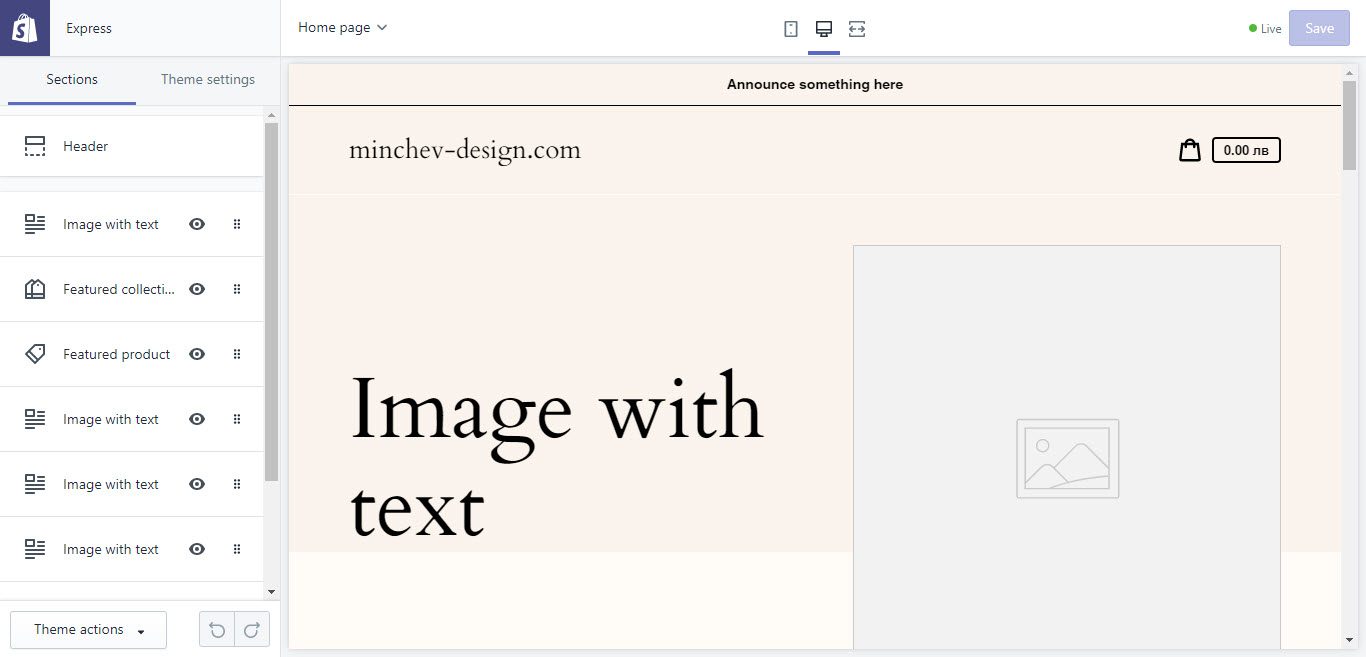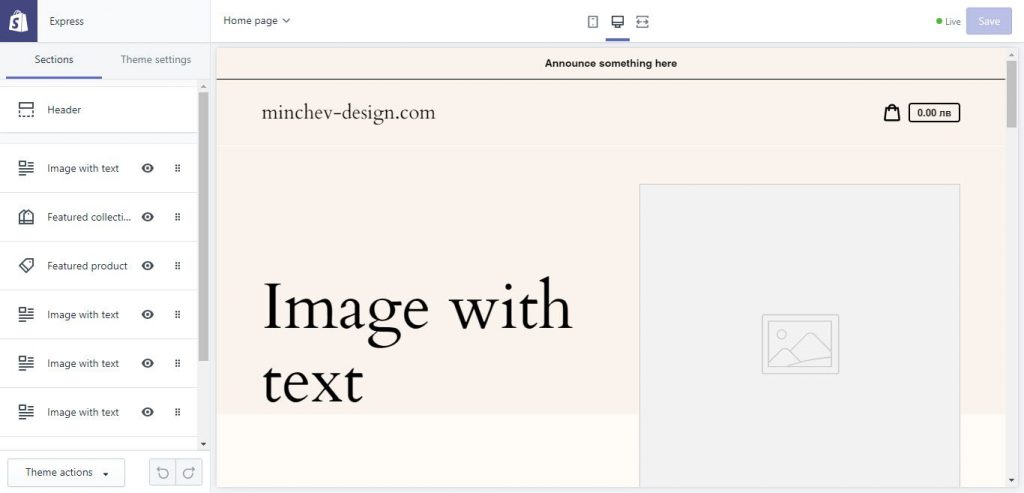 Ultimately, Shopify aims to provide you with a partially pre-filled design that you only need to customize to meet your exact needs most of the time. This is not an empty lane where you are just thrown and do not know what to do next.
---
Designs in WooCommerce
As you probably already know, there is no such thing as a design in WooCommerce. Under the hood, WooCommerce is a plugin for WordPress and as such it contains its content and information - your product lists - through your current WordPress theme.
This has both advantages and disadvantages.
On the one hand, you can continue to use your current theme and everything should work fine. So less trouble on your part if you already have a working WordPress website.
But on the other hand, you may encounter some difficulties, as certain parts of the store do not appear as you want. In extreme scenarios, you may even be forced to change the theme of the site completely to make everything fit (but this does not happen often).
With that in mind, making things look exactly the way you need them may require some work, and you'll rarely get the perfect result without making some manual modifications to the theme's CSS or other tools or plugins.
Here's what my test store looks like right now with the default WordPress theme: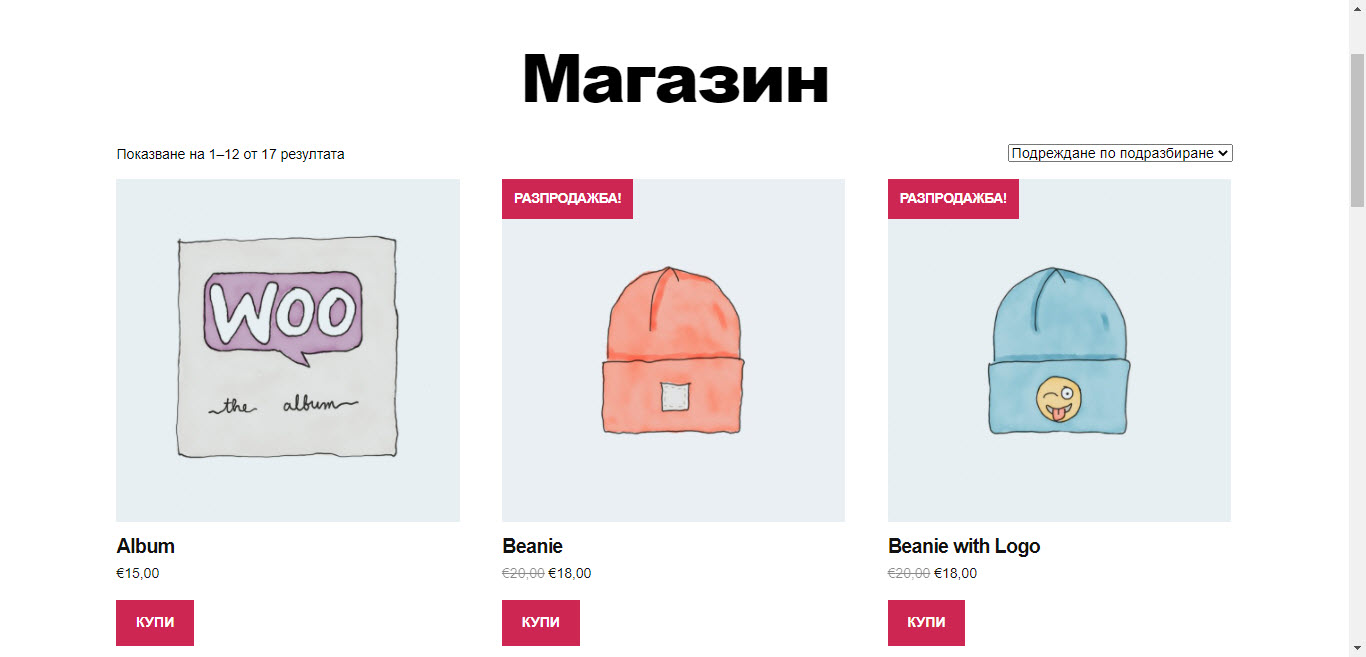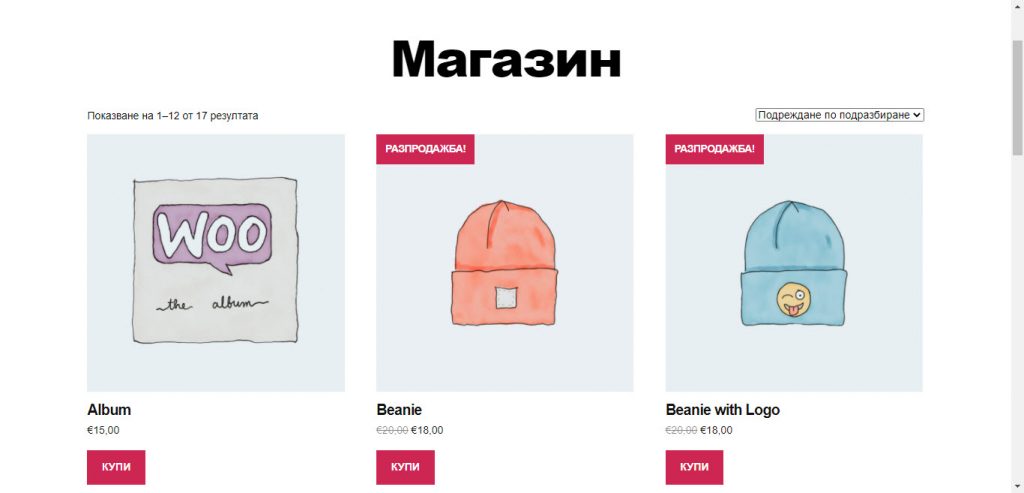 Usable, but far from perfect.
In general, when building an entirely new online store, it is advisable to choose a specific theme optimized for WooCommerce, instead of using something in common.
Here's what my same store looks like with the official WooCommerce theme - Storefront: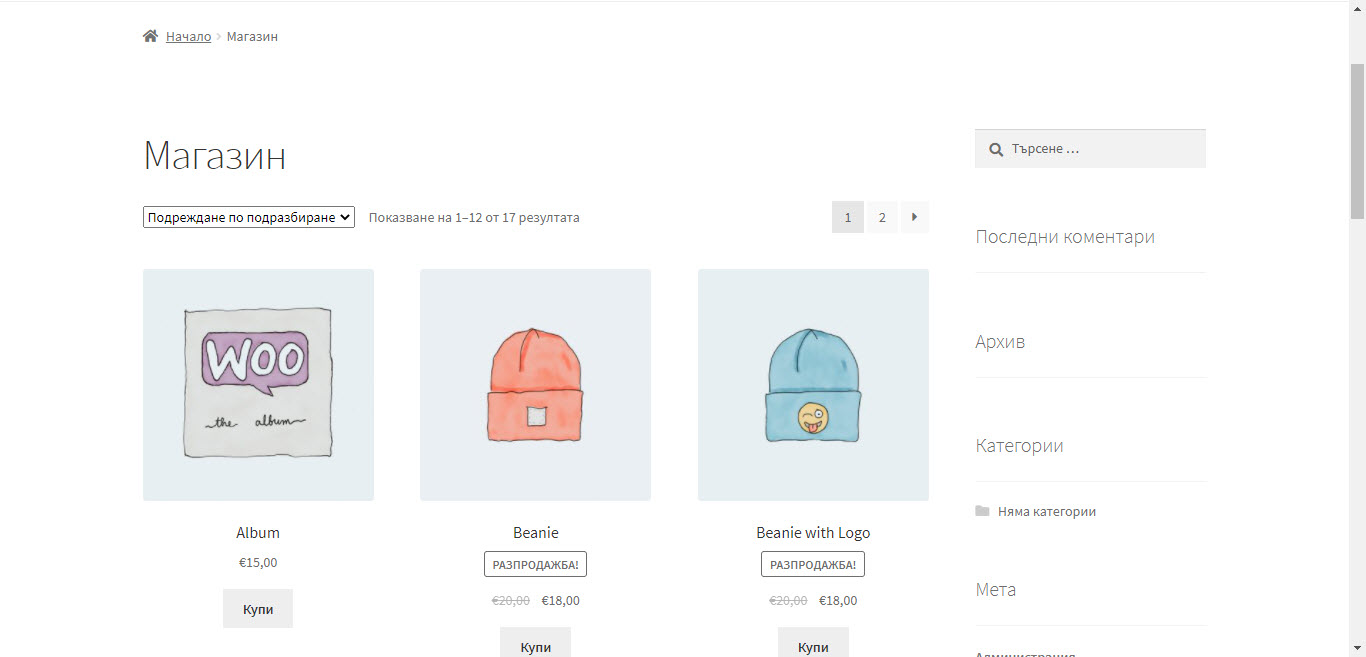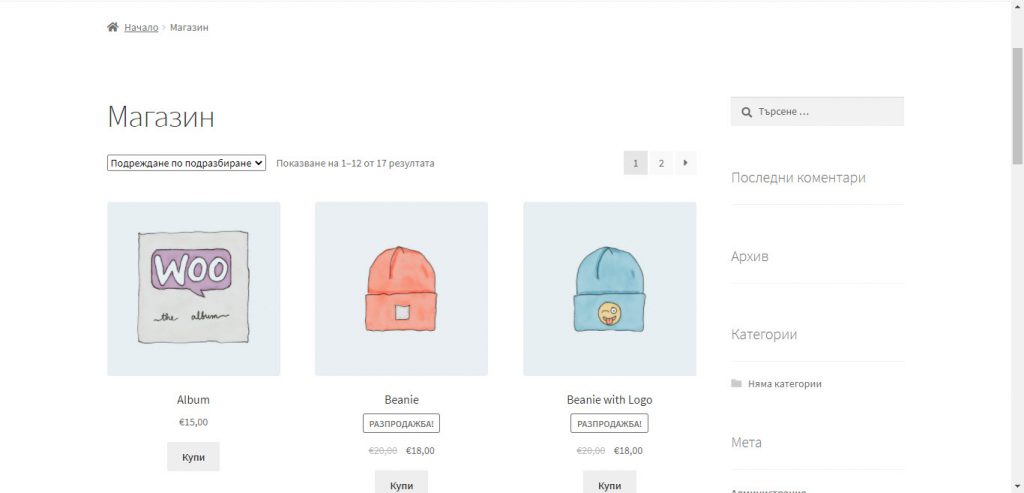 Just to be 100% to be honest, we need to mention the thousands of WordPress themes available on the web повечето and most of them are able to handle a WooCommerce store setup. So WooCommerce is probably the best e-commerce platform in terms of design flexibility.
And most importantly, many of these themes are completely free, so it will minimize the initial setup costs, but more on that later.
After all, when Shopify's choice of themes was great for its unconventional quality, WooCommerce gives you a lot more in terms of possible customizations, but also requires more work.
---
Designs at Magento
Although I don't have much experience with the platform - despite its popularity - from what I see, Magento is not very strong in the design department.
First, the company behind Magento doesn't offer its own themes, so you just get the basic software. This means that you have to go to third parties to get something.
The two most popular sources of Magento designs are the community Magento Connect and… you guessed it, ThemeForest - There is a section for Magento.
However, all of these themes are just not as stunning (at least in my opinion), except for a few themes in ThemeForest, and you get a lot more variety and modern-looking designs from the other e-commerce platforms on this list.
---
Designs in BigCommerce
The way BigCommerce approaches themes is similar to Shopify's strategy. What you get is a set of well-designed online store designs that follow a certain style and only need to be adjusted here and there.
BigCommerce gives you access to both free and paid topics, although the free department is even smaller than Shopify's - only seven topics at the time of writing. If you turn your attention to paid topics, they can become quite expensive - often from 145 to 250 dollars.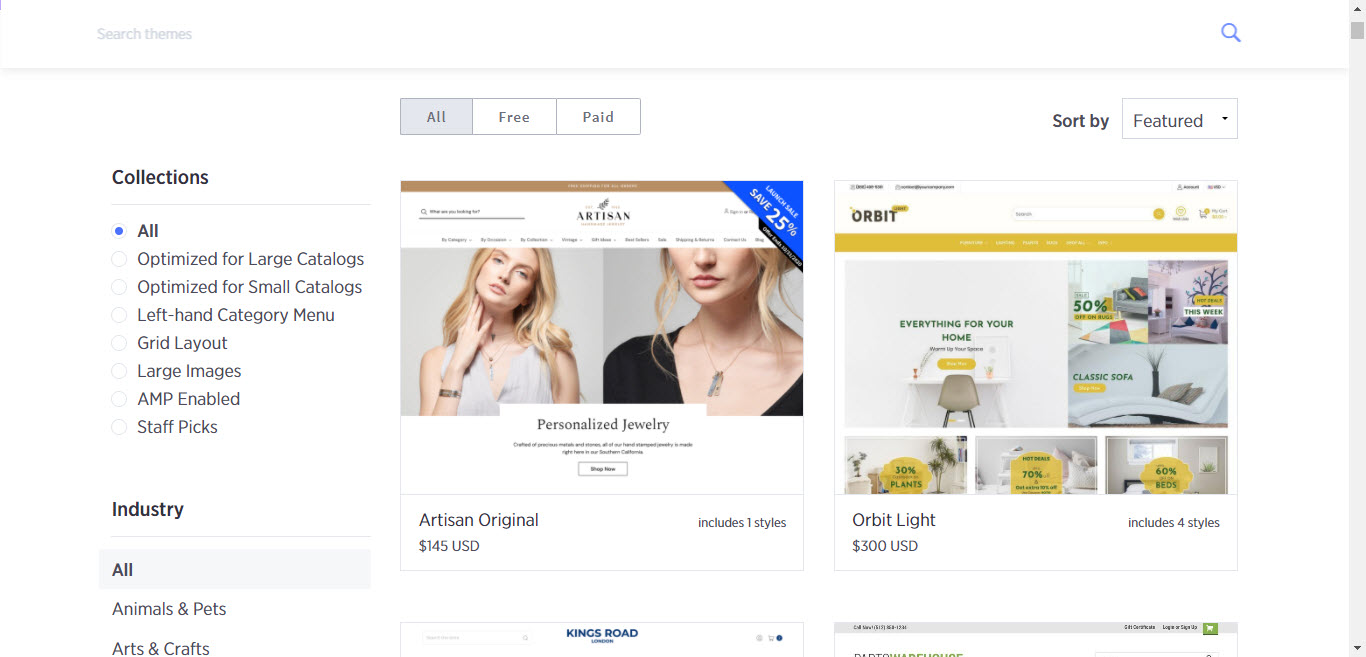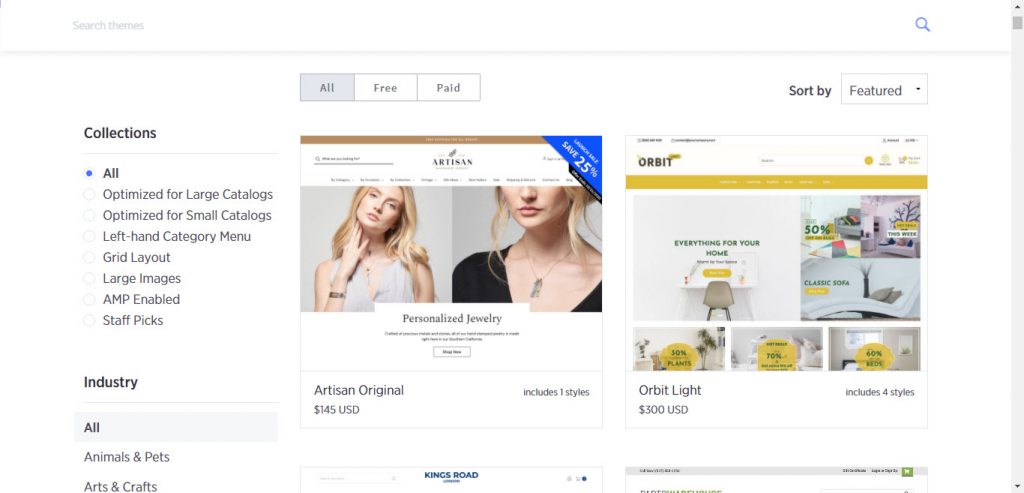 Once you choose your theme, customization is very good. There are many settings to play with. Get general color settings, headers, footers, buttons, section titles, sliders, and more. Overall, a nice and powerful interface.
It is also worth noting that all these themes are optimized for mobile users.
---
Designs at Wix eCommerce
Wix advertises 500+ pre-made templates to choose from, but only about ~ 100 are really optimized for e-commerce. However, you can always pick up a non-e-commerce theme and add store functionality.
And even with e-commerce topics, you have a lot to choose from. For example, you will find different topics for t-shirts, makeup, technology, etc.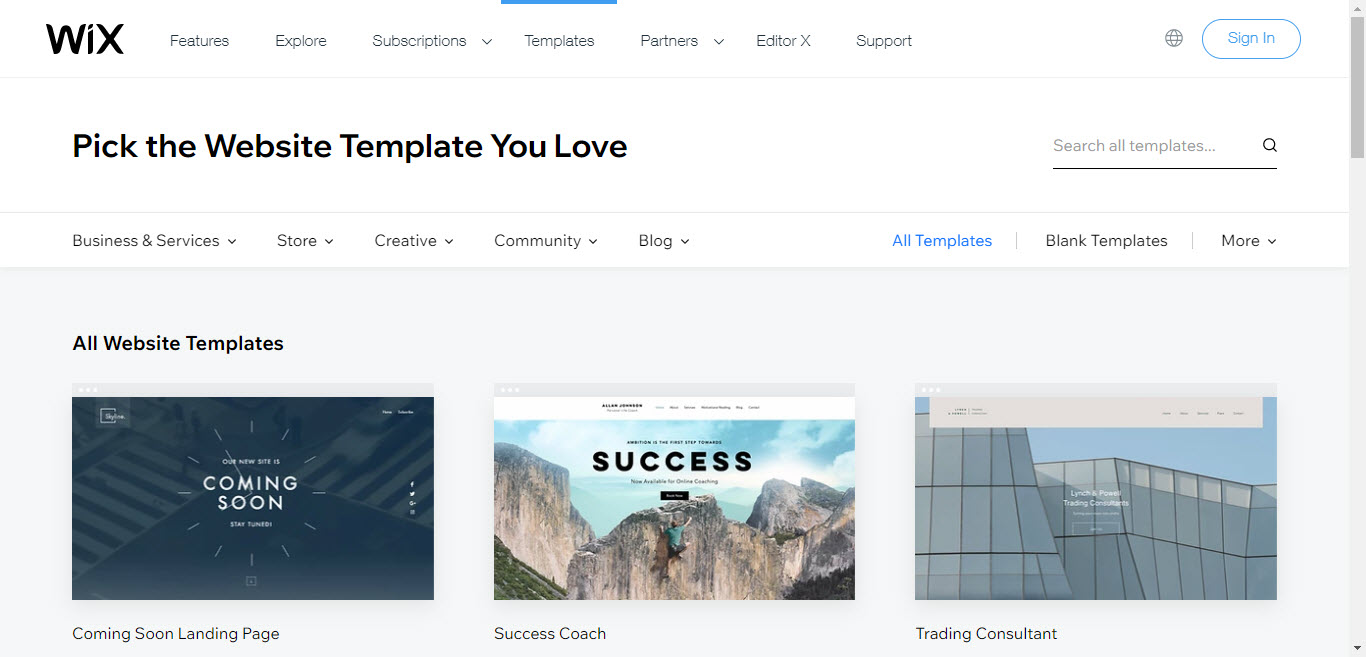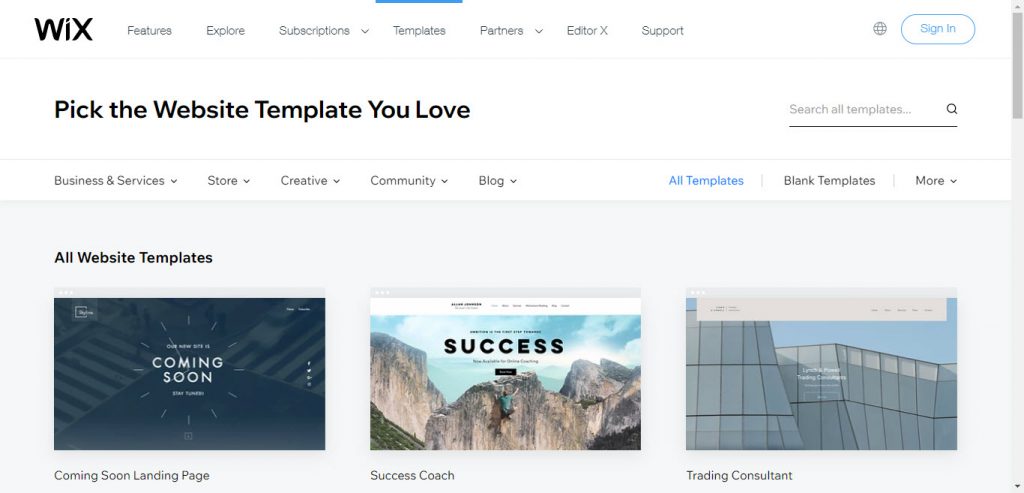 Once you've selected a theme, you can edit it using the Wix drag-and-drop visual editor. You can also enter development mode if you want to make direct code edits, which is convenient for more advanced users.
The judgment
Overall, BigCommerce seems to offer a little more customization options than Shopify. There are simply more elements that can be adjusted or refined to the way your store looks and feels. Wix e-commerce also does well here with its Dev mode.
After all, I still find the Shopify interface a little friendlier, and I'm left with the impression that Shopify's designs need a little less work before you look right on the 100%.
But then comes WooCommerce, and its compatibility with thousands of WordPress themes. That's all I need to put WooCommerce first here. So my final assessment is:
---
Round 4: Customer Support
Managing an e-commerce store is a complex thing and there may come a time when you need help with whatever platform you choose.
When this happens, the way you receive help will vary radically between different platforms. For example, since the main WooCommerce plugin is a free open source tool, there is no support source for the WooCommerce itself. Instead, you will need to contact other means.
Keep these important differences in mind when making a decision…
Overall, Shopify, BigCommerce or Wix eCommerce are probably the best options for an e-commerce platform if you appreciate the ability to get easy support, but let's not get ahead of ourselves!
---
Customer support with Shopify
As for the Shopify platform itself, round-the-clock support is offered. There are several different ways you can connect:
Live chat
Email
Phone
Twitter (yes, Twitter is an officially designated support channel)
Shopify also offers a detailed knowledge base to help you.
However, not all the tools you will use in your store will be official Shopify tools. That is, you will probably use some third-party applications, as well as perhaps a third-party Shopify theme.
In this case, you will need to contact the developer of this support product, which may be affected or omitted depending on the developer.
---
WooCommerce customer support
The WooCommerce main plug-in is a free open source tool. This is good for keeping costs low, but it also means you don't have to have special support for the basic free tool.
That doesn't mean you're out of luck. First, WooCommerce maintains a public knowledge base that you can use to help yourself. In addition, the WooCommerce team offers support for all paid extensions they offer. According to them, "We only support our products sold to WooCommerce.com".
You can also find a lot of help from the community because WordPress / WooCommerce is so popular. There are many tutorials, Facebook groups, etc. that can help you find answers. Or you can pay for a WordPress support service, some of which offer special WooCommerce support plans.
Finally, like Shopify, you can usually get support directly from developers if you purchase a third-party theme or extension.
---
Customer support with BigCommerce
Like Shopify, BigCommerce offers round-the-clock support for the main e-commerce platform. You can get support through:
These support staff can help you with more than just technical things, as BigCommerce advertises them so they can help with "everything related to BigCommerce sales and growing your business."
BigCommerce also has a large knowledge base if you prefer to help yourself.
---
Customer support with Magento
Magento is something like WooCommerce when it comes to offering support. While I will talk about pricing in more detail in the next section, Magento is available in two packages:
A free, open source tool that you can install yourself (called Community Edition).
Hosted (and paid) corporate service by the Magento team.
If you use the free community edition, Magento does not provide support. Instead, you will have to rely on community support or pay for a third-party support service.
However, if you pay for the corporate version of Magento, you will receive special support by phone and email.
Like the others, Magento also maintains a knowledge base that you can use.
---
Customer support with Wix eCommerce
Wix eCommerce offers a good set of options for getting help.
If you prefer the self-help route, Wix has a detailed knowledge base that you can consult.
If you want help from their specialist, you can get 24/7 support in English by phone through the Wix callback service. Wix also offers telephone support in French, Italian, Portuguese and Spanish, although these languages are not available 24/7.
You can also open a ticket if you do not want to use the phone.
---
Round 5: Easy to use
There are two key features that come into play when considering the ease of use of our best e-commerce platform:
How easy it is to start and build an online store from scratch.
Can the user reliably handle everything on his own, without any outside help.
Let's see how our contenders compare:
---
Ease of use in Shopify
The registration process in Shopify is very well optimized. Guides the user step by step and does not require too much information at each stage.
To get started, all you need is your email address, password and name for your store. Shopify then takes your hand and asks a few questions to better understand where your business is. All this information helps them optimize your store better from the start.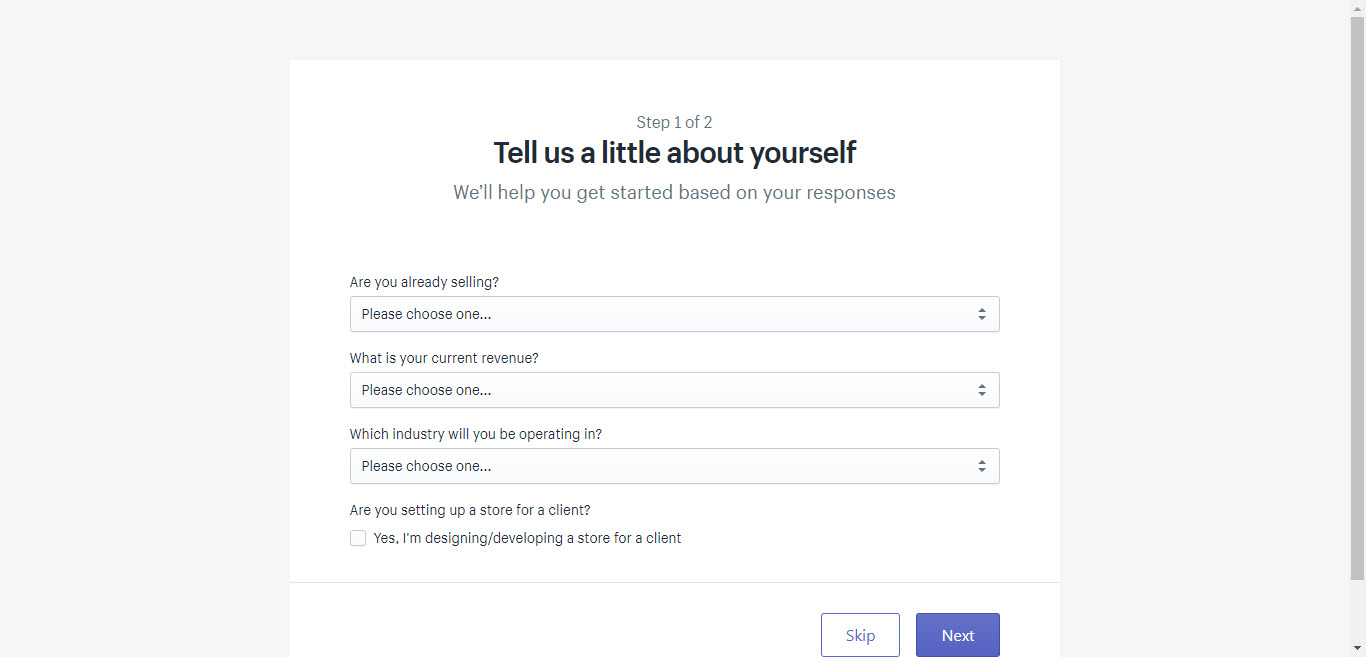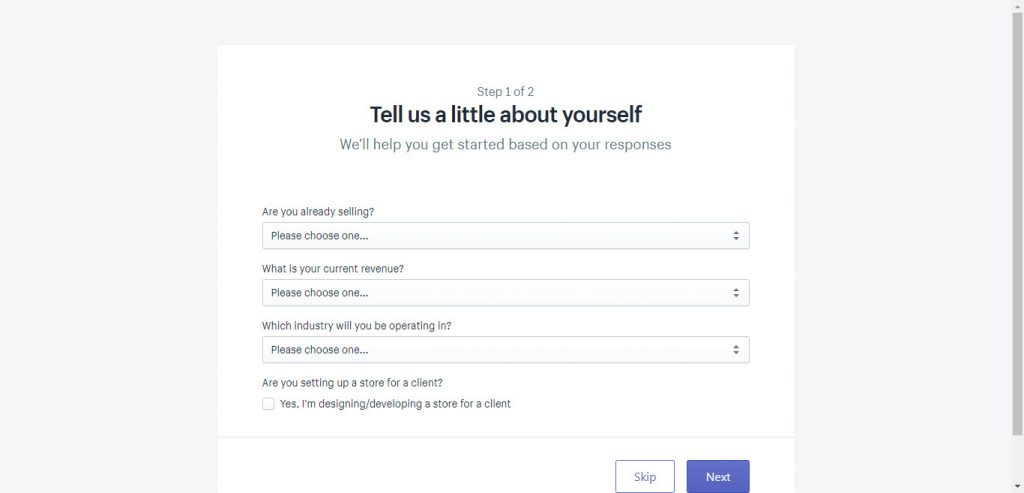 After registration you get access to the main control panel. It is very neat and does a great job of pointing you in the right direction and to all the most important tasks you can do while running your store.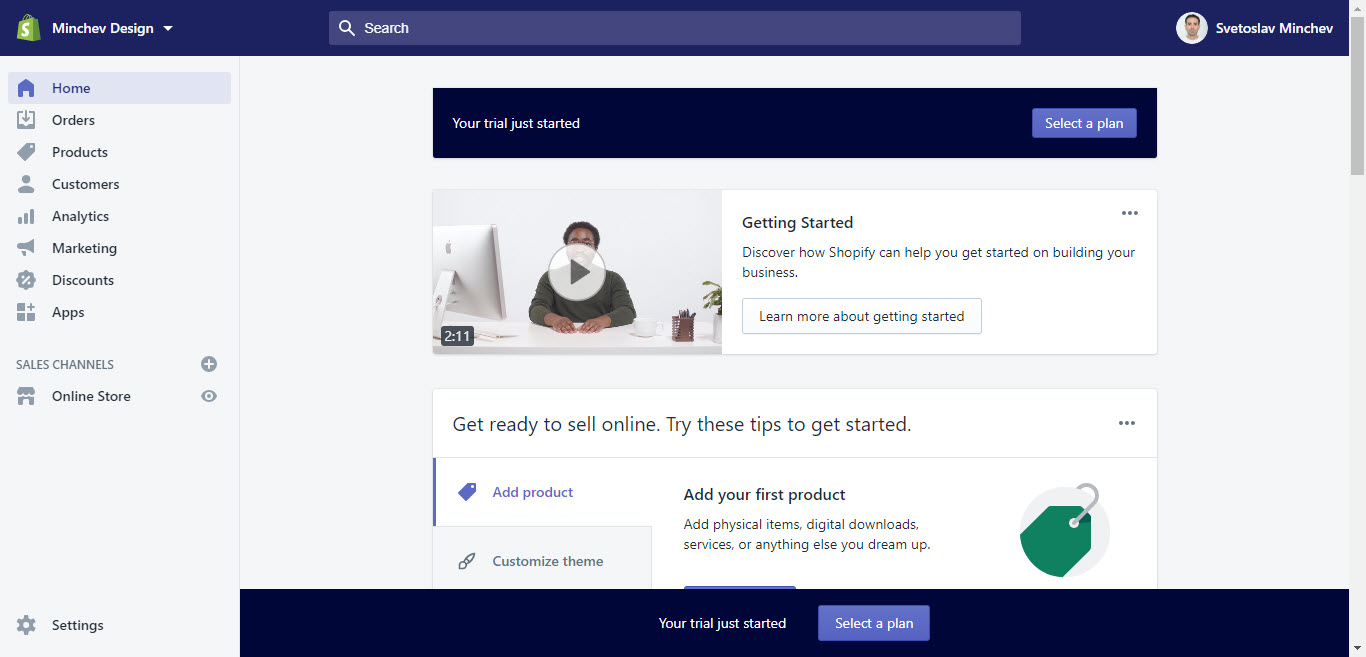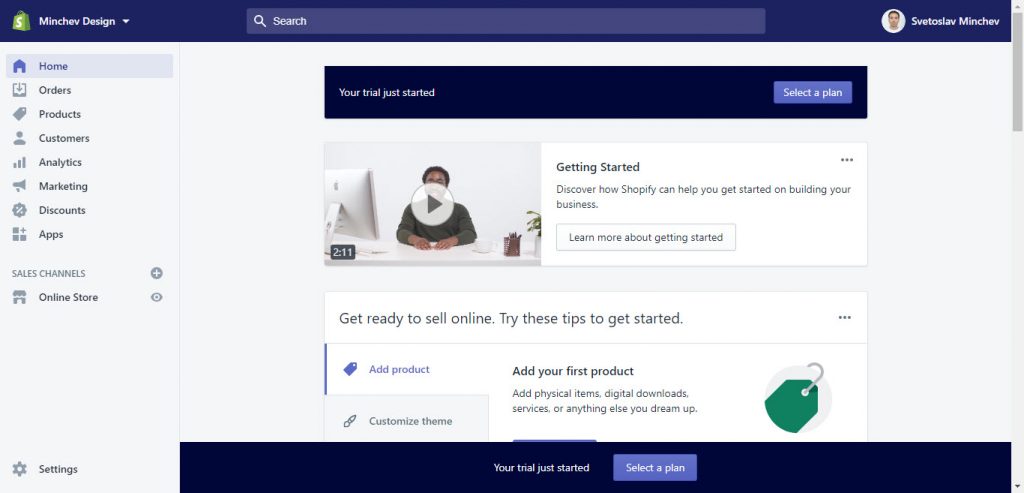 It has your orders, products, customers, reports, everything.
Shopify also takes an interesting approach when it comes to the location of the online store itself in the user panel. Basically, with Shopify, an online store is not all-in-all of your sales tools, and as you grow, it can become just one of several sales channels working for you.
Therefore, all management tasks that are entirely related to the online store are processed in the "Online Store" section under "Sales Channels" (you can see the link in the sidebar of the image above).
In addition to the online store, Shopify also allows you to use a simple purchase button, a Facebook sales module or their well-known point-of-sale system (for sales in a real location).
All this is really great and the general lack of noise in the user interface makes everything very easy to use, not only when you set up the store for the first time, but also when you deal with it every day.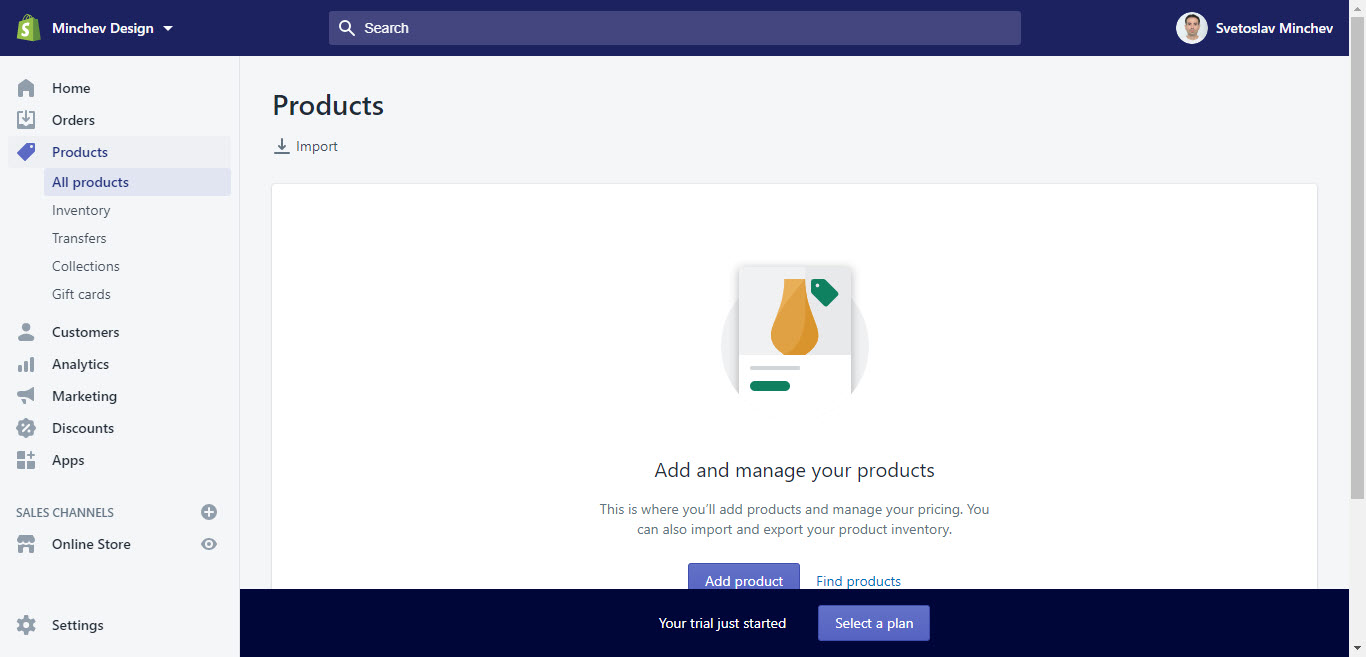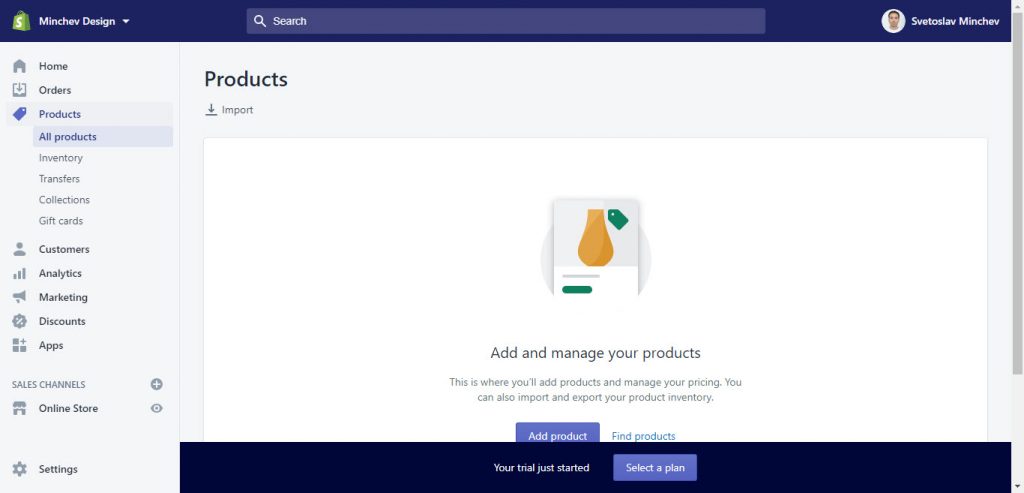 Even the slightly more boring things - like the basic settings of the store - are presented in a friendly, not confusing way.

Overall, I have to acknowledge Shopify in the ease of use department - 10/10.
---
Ease of use in WooCommerce
Starting a WooCommerce store is more than easy - but only if you already have a working WordPress website.
First of all, let's keep in mind that WooCommerce is e-commerce software, while Shopify and BigCommerce are e-commerce services that do not require any installation per se. To start with WooCommerce, you must first find a good host, install WordPress in your account and only then proceed to the WooCommerce part of the transaction. Fortunately, nowadays all good web hosts offer one-click WordPress installation.
Once you have WordPress, basically all you have to do is install the basic WooCommerce plugin, activate it and you're done.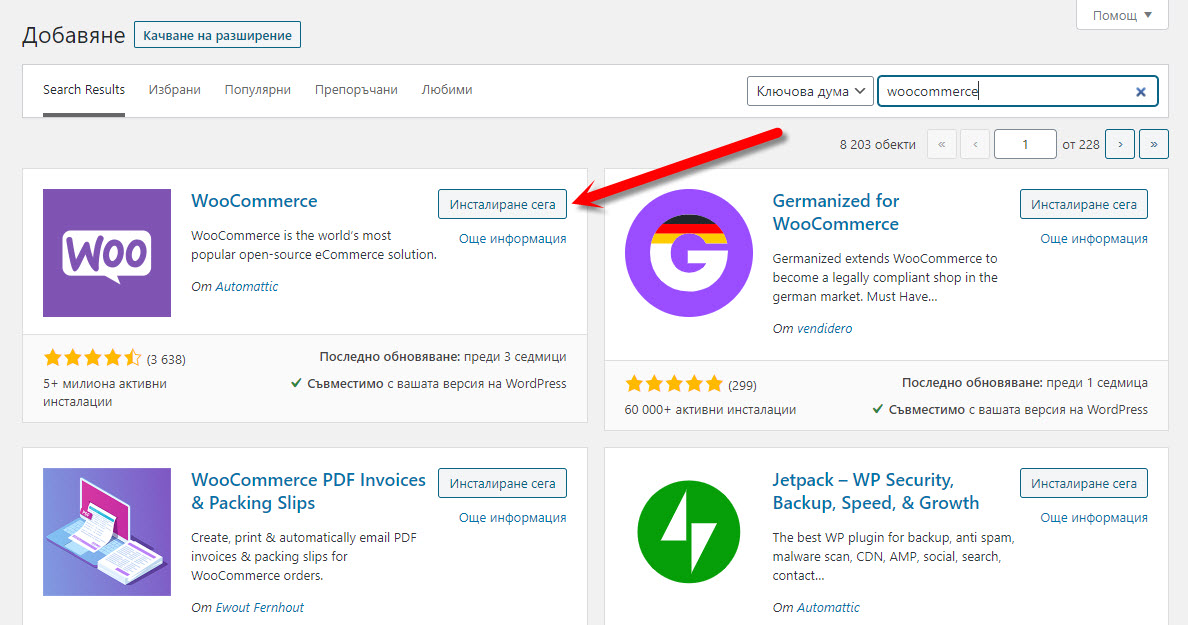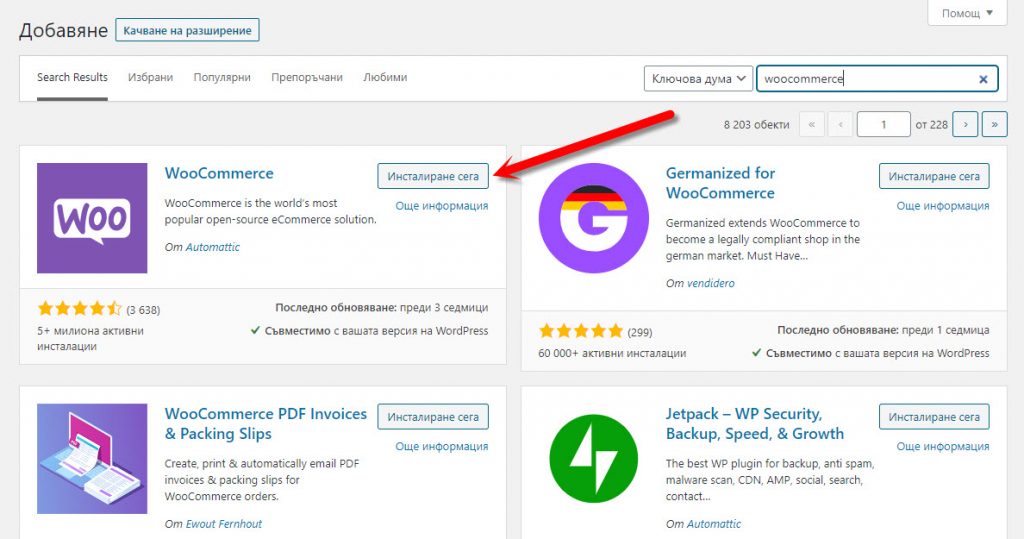 WooCommerce will then guide you through their built-in wizard and help you set all the details of your online store.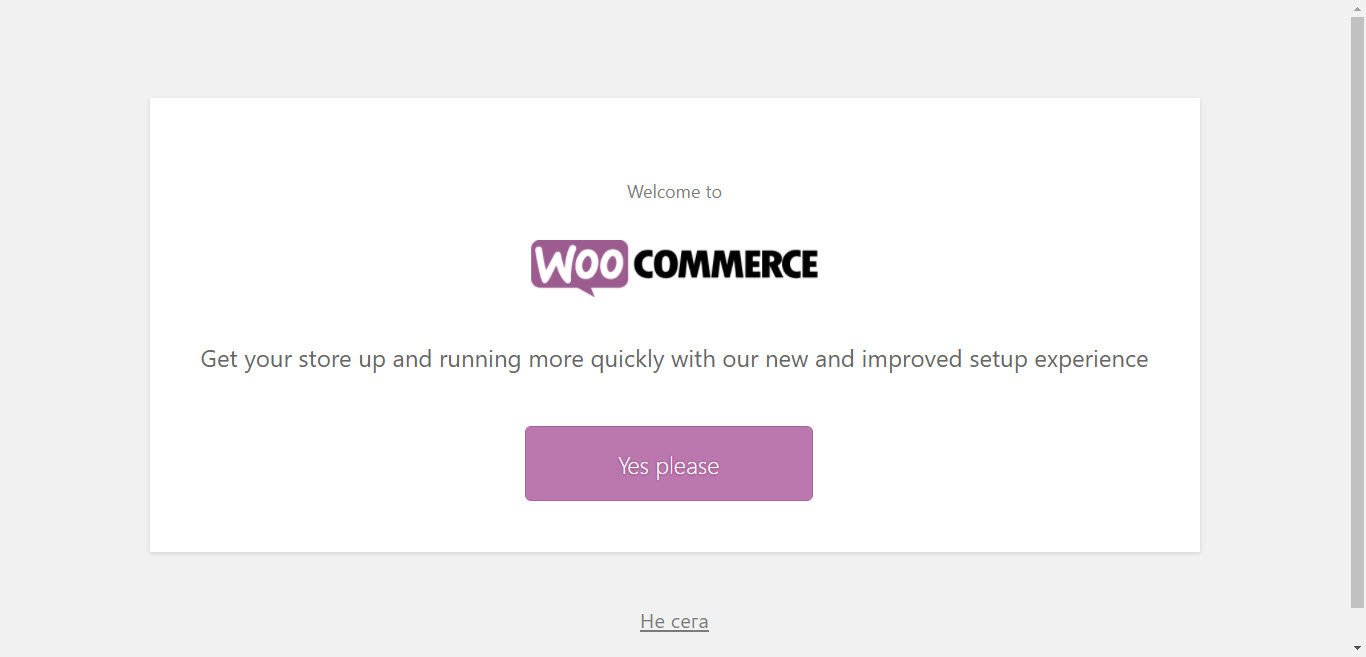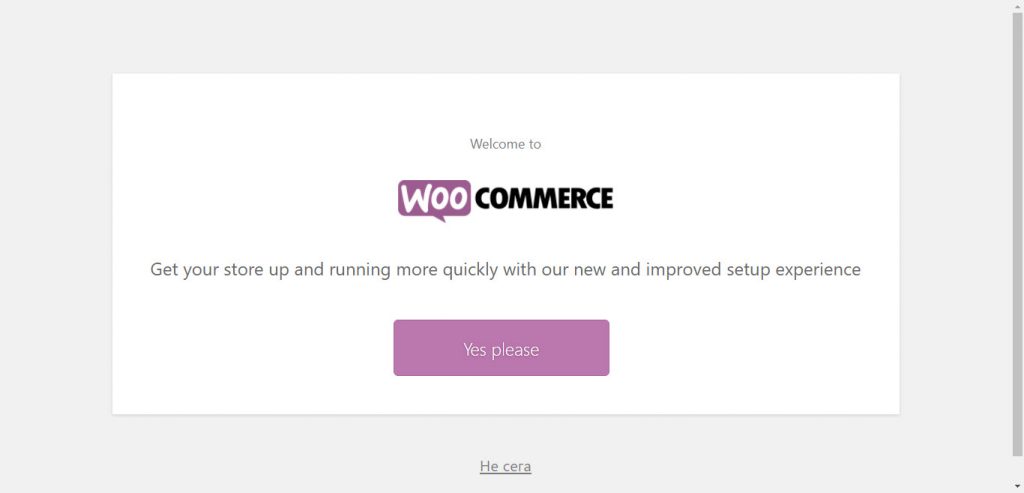 During which the purpose of each page in the store is explained, you can set the store locale (currency, location, default units), taxes, online payment integration and more.
The only downside to all this is that somehow you have to get to a WordPress site first. Well, I know this isn't a big deal for you, maybe, but we have to remember that WordPress can be quite confusing for beginners and that the need to set up a WordPress site first and then a WooCommerce store is far from intuitive. .
Even after you manage to install everything, the current work with your store is not as clear as with Shopify, for example. Even looking at the main sidebar of WordPress, it is clear that e-commerce components are a bit lost among all other things suitable for WordPress: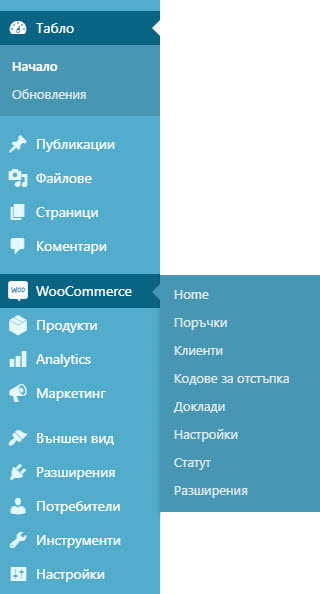 Okay, maybe I shouldn't be so critical of WooCommerce. Everything I call a "problem" here is actually a problem only the first few times you learn to interact with the whole setup. Then it is quite smooth sailing and administrative tasks can be performed very efficiently.
Also, if you already have a basic understanding of WordPress as a platform, you'll find that product management works a lot like managing posts or pages.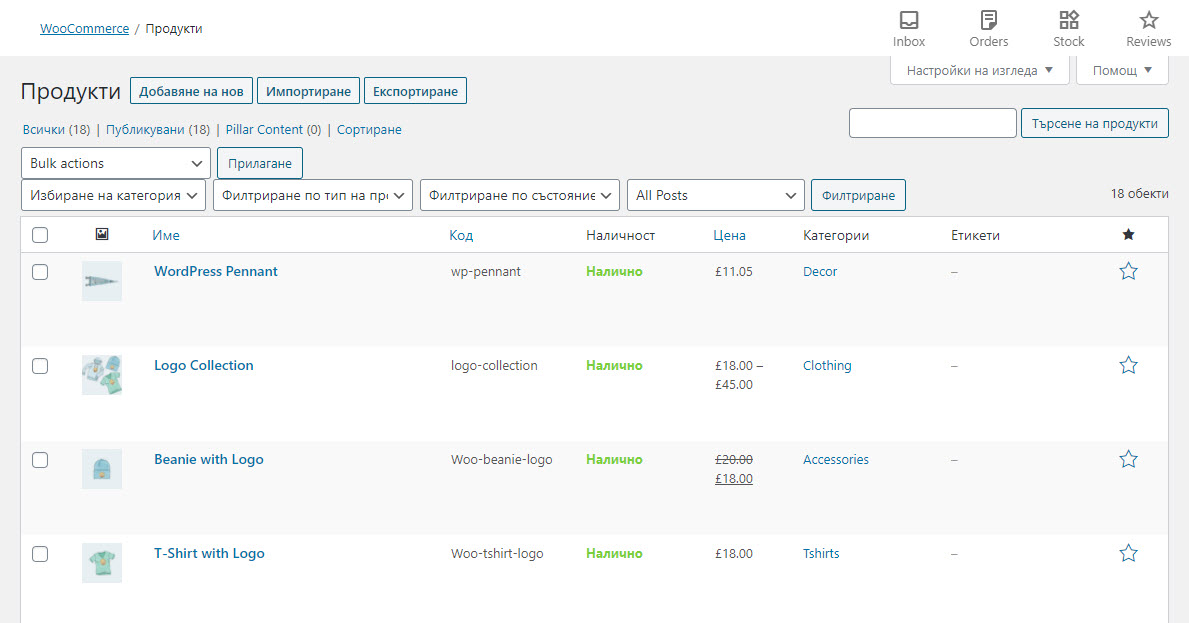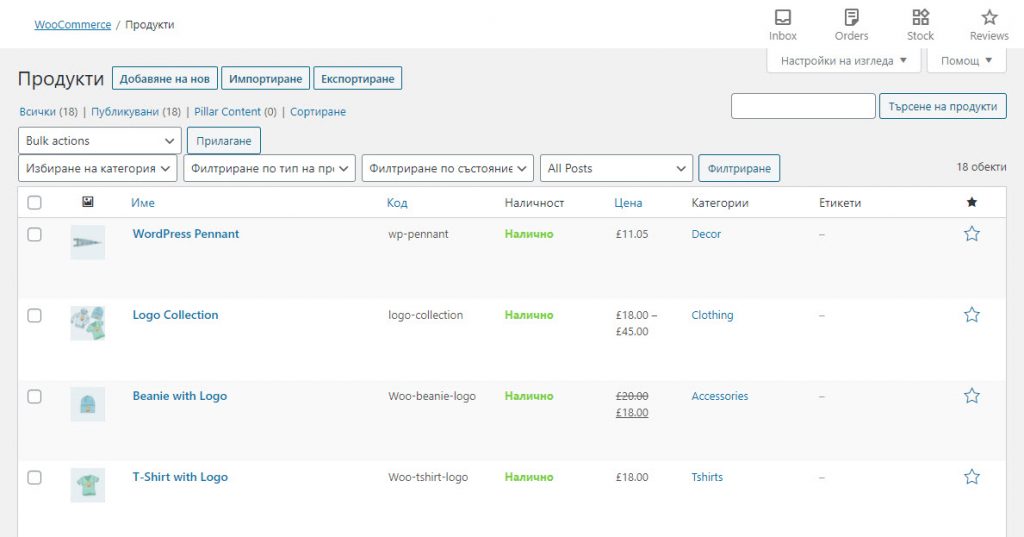 Overall, I would say that WooCommerce is as easy to use as Shopify… if it weren't for the initial setup and the fact that it's not a standalone tool. For me this is 8.5 / 10 for easy use.
---
Ease of use in Magento
Getting an online store running on Magento from scratch is even more problematic than on WooCommerce. First, there are two versions of Magento: the first is the free version of the community (which is software that you can download and then install on a server - something like WordPress + WooCommerce), the second is a hosted service (one that you can just download register - something like Shopify).
Let's take a look at the free version of the community here, for reasons I'll explain in the pricing section.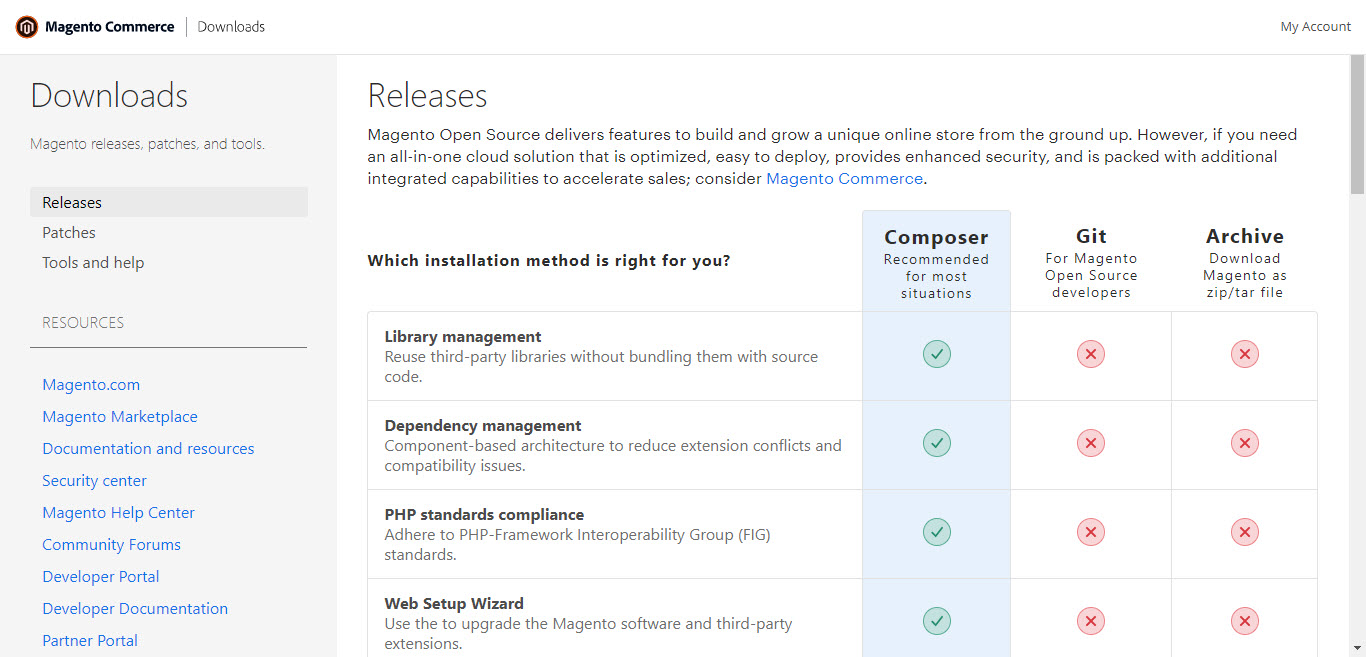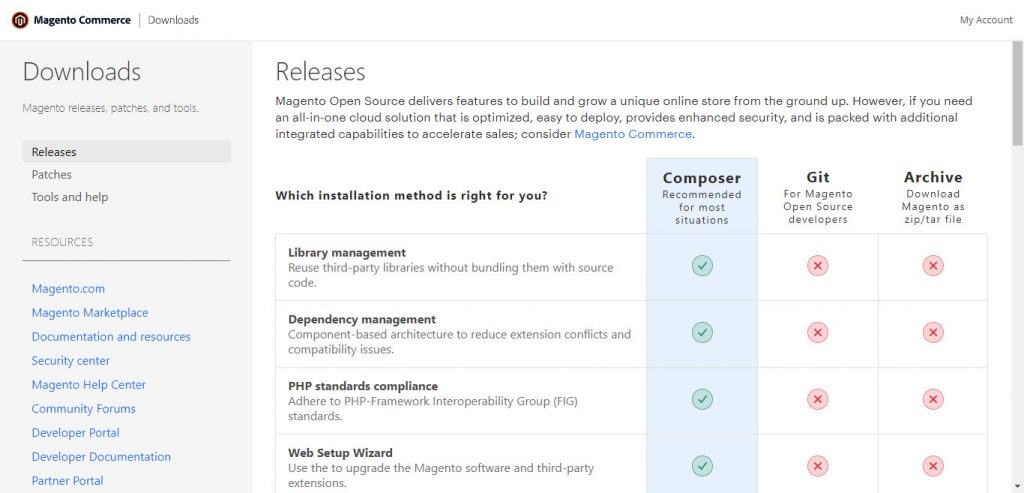 So to run anything on Magento, you must first take the basic Magento software package and install it on your web server by hand, or use the installer with one click with your host. Most of the popular hosting companies give you this opportunity.
I do not recommend installing the platform manually. Although there are official documents and many lessons, this is still quite a technical process that you do not need to deal with.
After installation, the main dashboard is quite clear and gives you all the basic functions in a well-arranged menu.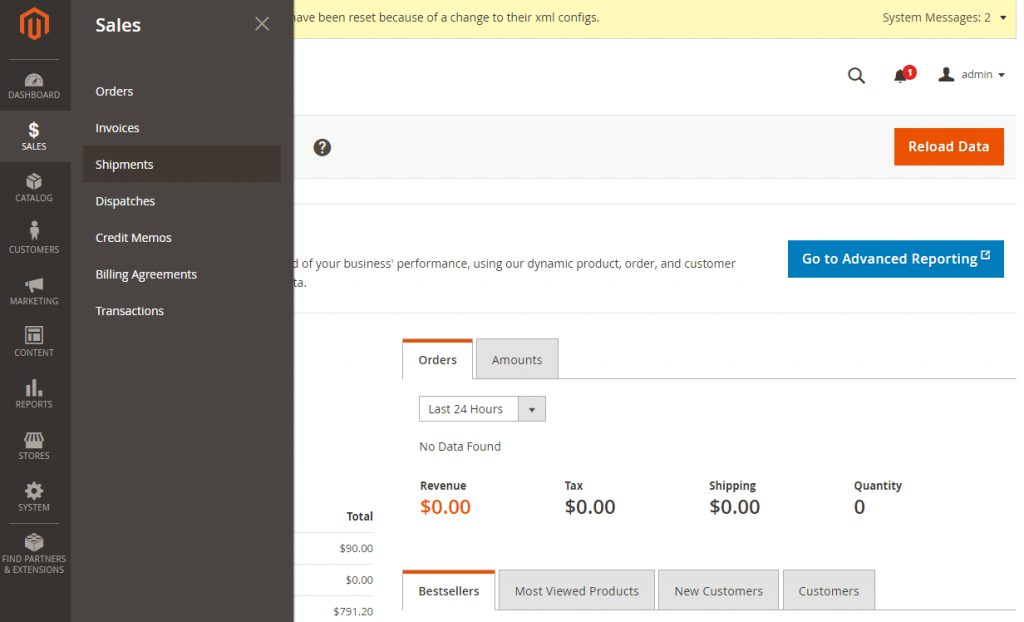 With that in mind, the look and feel of everything is much more technical than Shopify or BigCommerce. Magento is more focused on providing you with all the possible e-commerce features and then allowing you to decide how much you really need. The reports are great, as are all the statistics and analysis you get about the state of your store, but overall it's more of a corporate platform and maybe not so easy to understand for someone who is just entering their e-commerce business trip.
Overall, Magento has its own learning curve, which is a bit steeper than Shopify or WooCommerce, but most of it is in the initial setup and commissioning of your store. And yet I give 7/10 mostly because of the difficult installation.
---
Ease of use in BigCommerce
Under the hood, BigCommerce is similar to Shopify - both are cloud-based e-commerce platforms, and both are something you sign up for, not something you download and then install yourself.
Therefore, setting up BigCommerce is also very easy, just like Shopify. After providing the usual: email address, password, etc., BigCommerce asks a few additional questions about the nature of your business and then puts you in the dashboard.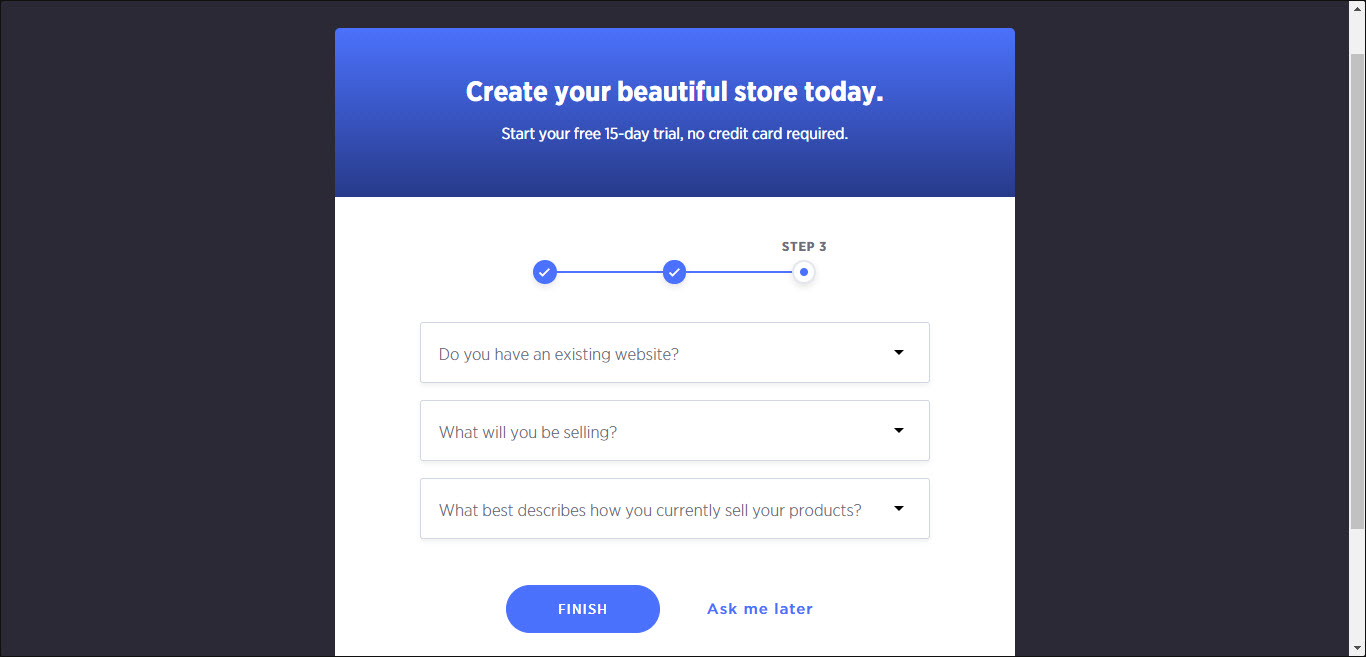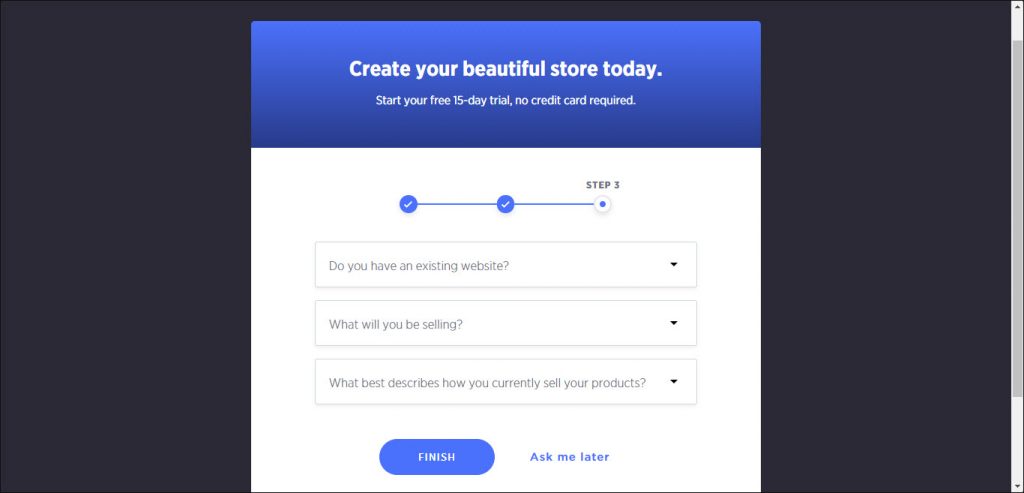 This dashboard is nice, there are no major problems with it, but it is less friendly than Shopify. I admit, maybe it's just me and my own preferences for certain UI choices over others.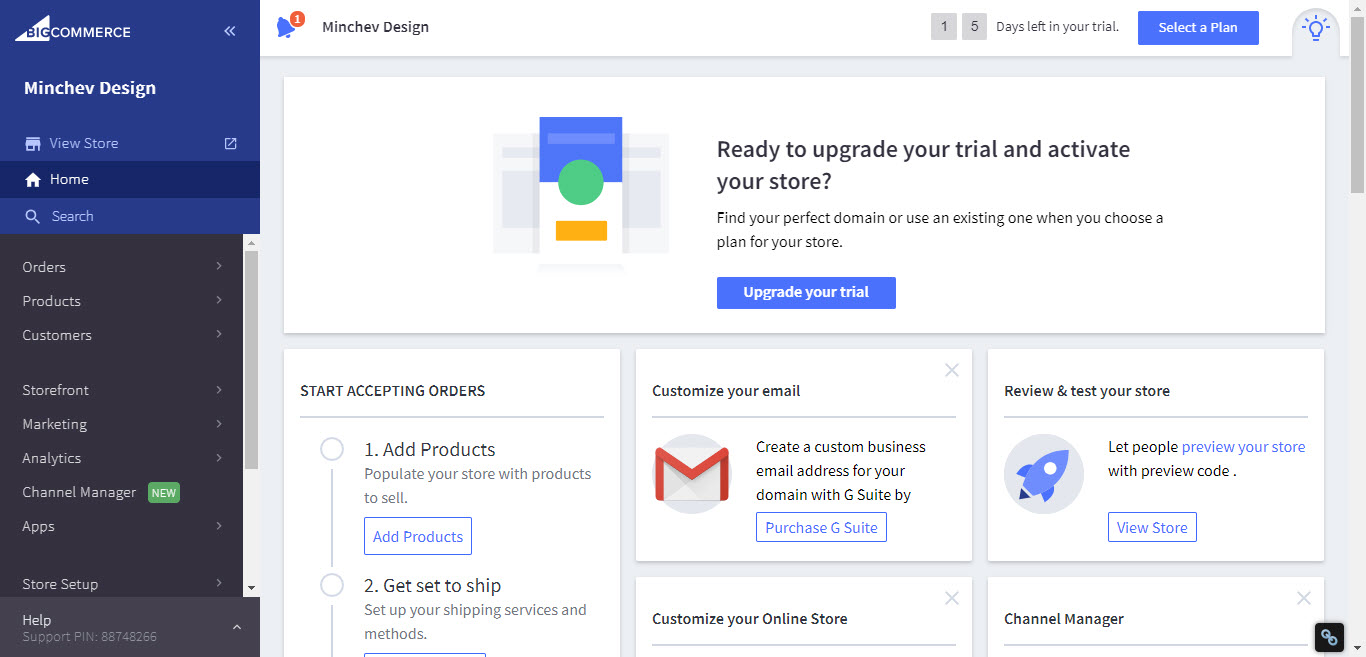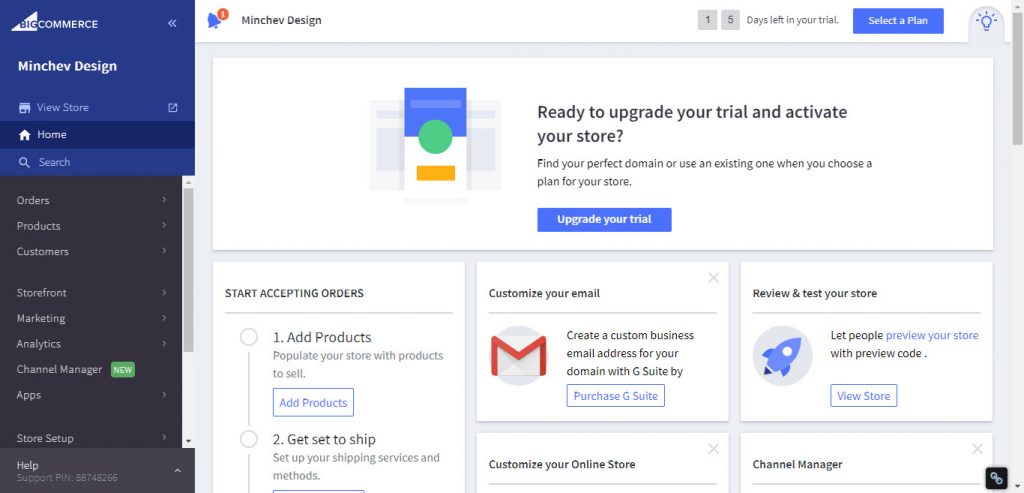 Anyway, everything that should be in the e-commerce dashboard is available here.
The only obvious drawback is managing and adjusting the design of your store. This one is a bit cumbersome and not as intuitive as dealing with WooCommerce or Shopify topics. Other than that, managing products, customers, orders, etc., everything is great.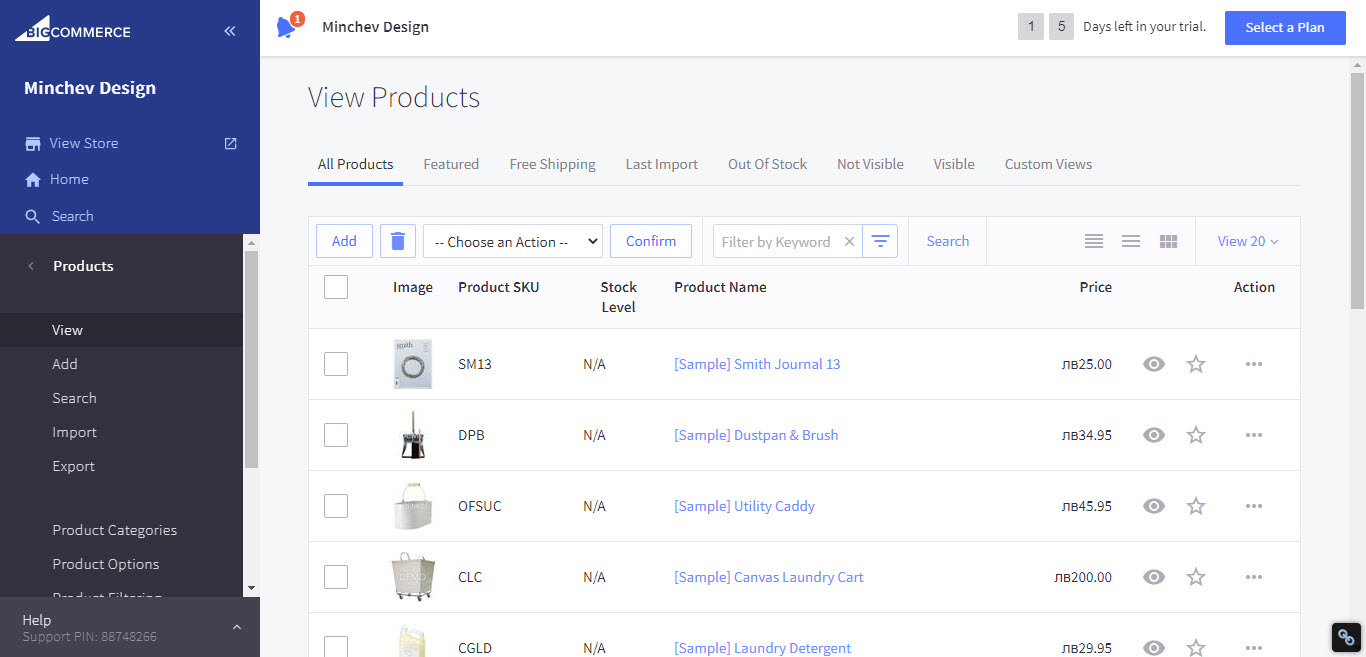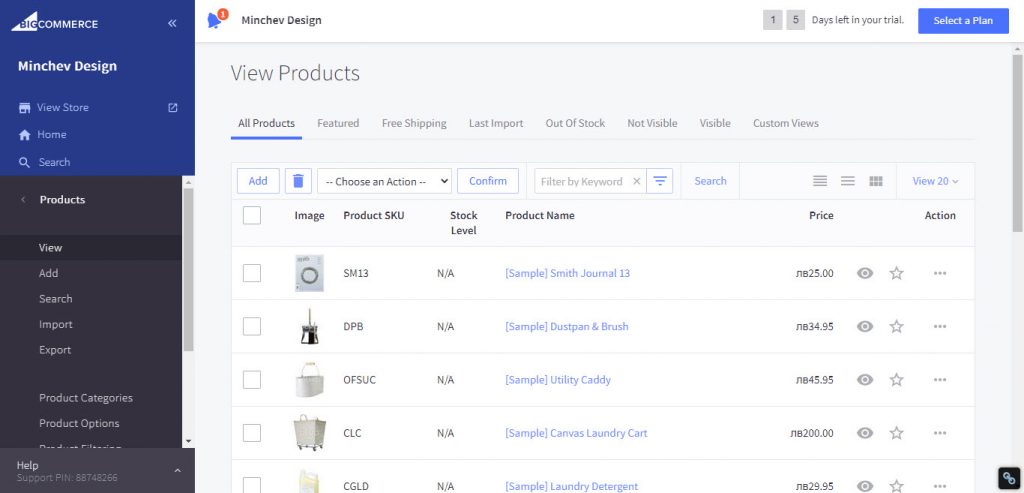 In the end I have to give BigCommerce 9.5 / 10 for ease of use.
---
Ease of use in Wix eCommmerce
Wix eCommmerce is easy to use in its own way, but it can take a while to get used to how the interface works.
Getting started is easy enough. You will first select your template on the Wix site you saw above. You can then open the store management panel, where you will receive special areas for products, stores, orders and other management aspects of e-commerce on your site: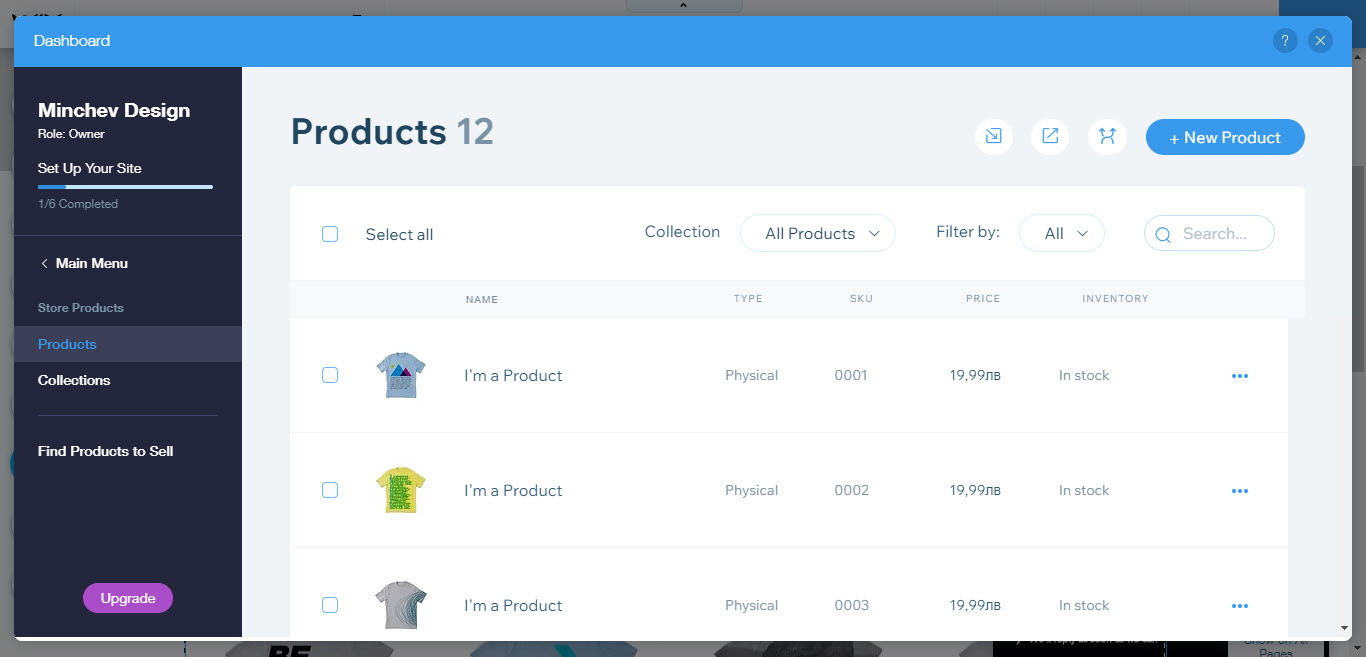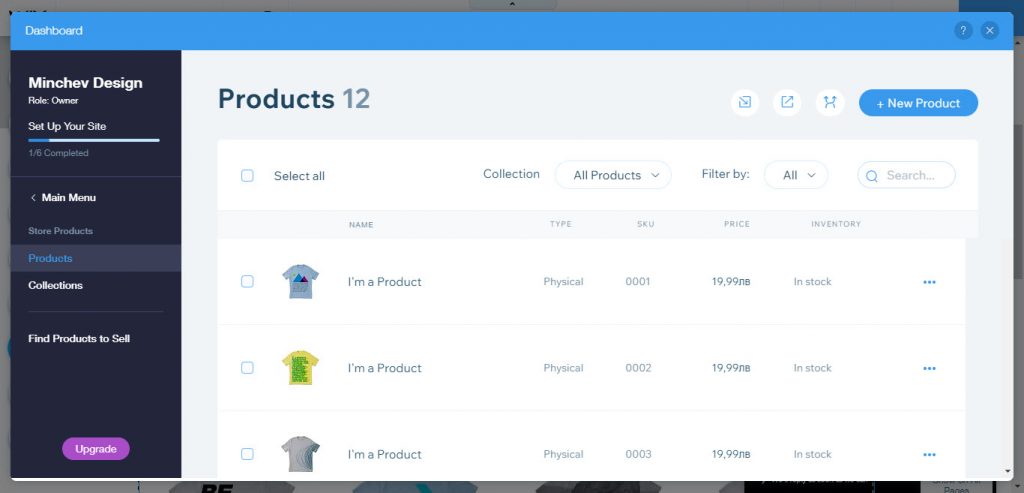 Adding a product is quite simple and you can also set advanced details, such as product options (size, color, etc.) and inventory / delivery details: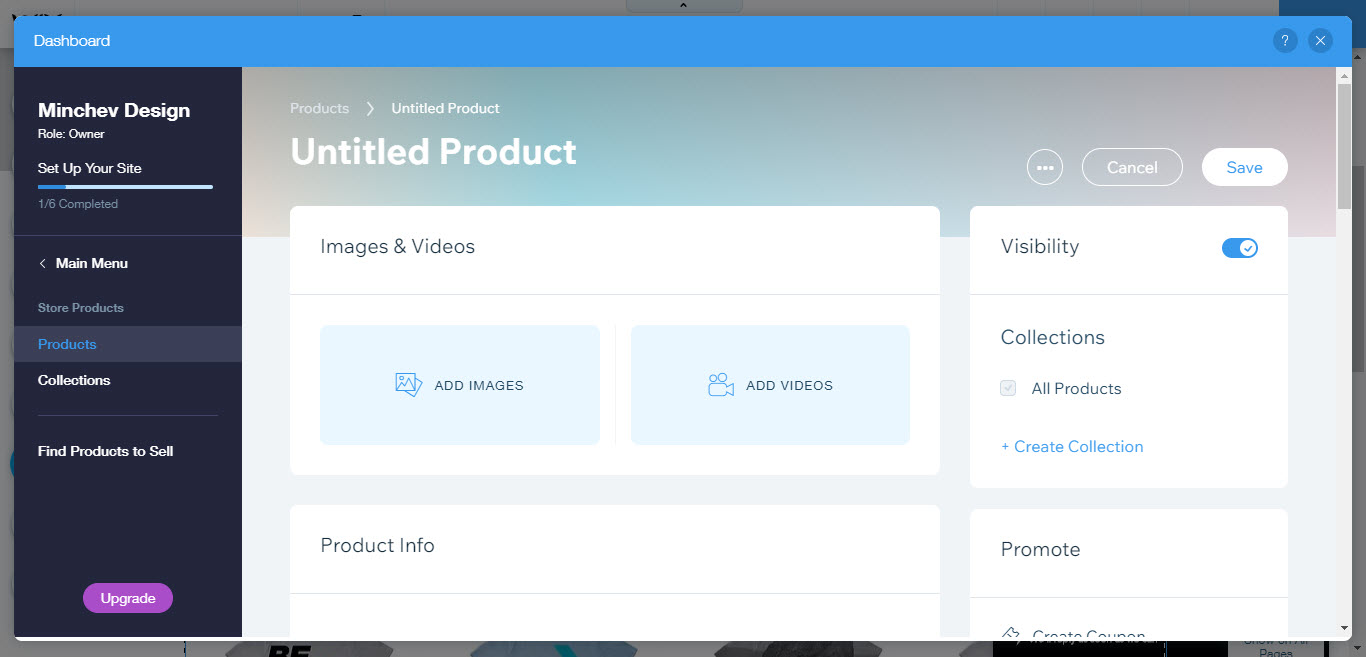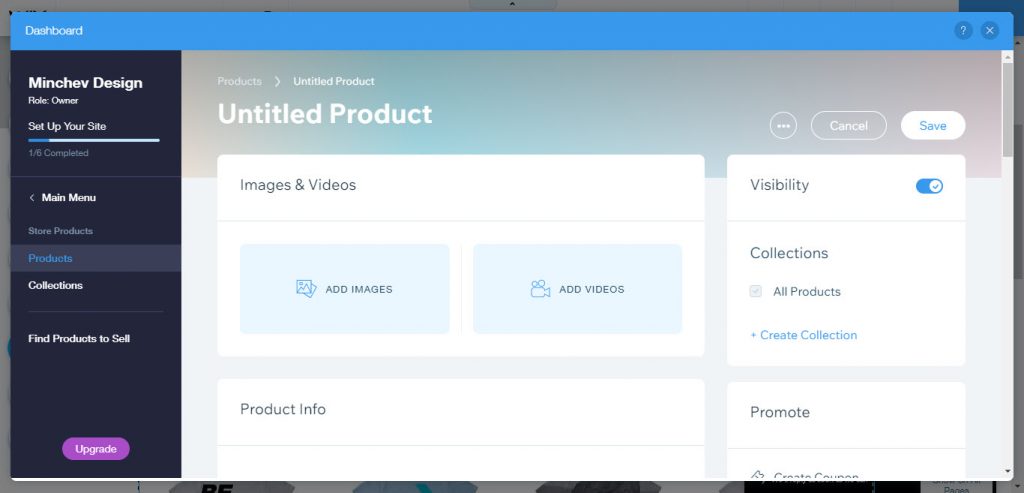 You will work in the settings area to configure details such as taxes and payment options. Because Wix has its own payment processing service, it's very easy to start accepting credit card payments. Wix also provides you with tools to help you calculate your tax rates.
Overall, it's pretty easy and non-technical once you understand the interface.
---
As for the general summary of ease of use, I must recognize Shopify, Wix eCommerce and BigCommerce as the best e-commerce platforms. As great as WooCommerce and Magento are, novice users simply won't be able to set up these platforms on their own.
---
Round 6: Pricing
Now the best part. Or the worst part?
I guess it's best if you're with the finished version of WooCommerce, and worst if you're with Magento… but I'm slightly ahead of myself.
Here is the full comparison of the price table:
Shopify
WooCommerce
BigCommerce
Magento
Wix eCommerce
$ 9 / month *
$ 29 / month
$ 79 / month
$ 299 / month

Paid month for month

* This plan is limited
$ 0 for the software itself

~ $ 100 / year for hosting
$ 29.95 / month
$ 79.95 / month
$ 249.95 / month

enterprise level solutions, up to $ 900+ / month

Paid month for month

$ 0 for the community release of the software itself

~ $ 100 / year for hosting

up to $ 15,000 or even $ 50,000 / year for the corporate edition
$ 17 / month
$ 25 / month
$ 35 / month

Paid for a year
One important thing to note is not to worry too much about the seemingly attractive prices of WooCommerce. Although yes, the platform itself is free and all the components needed for it to work (including PayPal payments, etc.) are free, you may need a number of paid extensions to get some useful additional features. This will increase your account.
For example, I know that every business is different and needs different elements, but I think we can assume that these extensions will be useful for most:
When we add all this up, the sum is equal to $305. And if you want support for more than a year, consider it an annual payment.
Of course, all these supplements can be purchased not in the beginning, but just when you need them, but it is still an investment that you must be willing to take.
Also, hosting. In the table above I say that it is about $ 100 / year. I got this number from SiteGround. They have some hosting plans that promise to be optimized for WooCommerce. Of the three levels available, I would not recommend going below GrowBig or GoGeek, which are $ 5.95 and $ 11.95, respectively. Therefore, this amounts to $ 71.40 for the first year and $ 143.40 for each subsequent year.
Let's continue with the calculations, let's say you only need half of the extensions mentioned above, so about $ 155 extra investment is needed to get them. Plus the hosting - $ 72 - and we have $ 227 for the first year. There are still many - many - attractive prices, but they are far from "free".
And we're not done yet.
Another thing to keep in mind when choosing the best e-commerce platform for yourself is to check transaction fees and credit card processing fees.
You can usually expect around 2.5-3% + 0.30 $ per transaction when processing payments. However, depending on the payment system you use, you may receive double billing with some e-commerce platforms.
For example, Shopify charges 2% per transaction if you want to use an external system such as PayPal instead of Shopify Payments. On top of that, PayPal also charges its own fee in the range of $ 2.9% + $ 0.30 per transaction. These things can increase your spending, and it doesn't matter if you're just getting started and every penny counts.
As far as I know, BigCommerce and WooCommerce do not charge a fee on your transactions, so the only fees you pay are those of the payment system.
In general, for me it all comes down to this:
I love WooCommerce for the fact that you can only get it for the price of hosting and I love Shopify for their $ 9 Lite plan. That's why they both get 10/10.
---
The best e-commerce platform: Final evaluation
Here's how it goes with all of the above:
Here's another look at all the features evaluated when searching for the best e-commerce platform:
| | Shopify | WooCommerce | BigCommerce | Magento | Wix eCommerce |
| --- | --- | --- | --- | --- | --- |
| Features | 10 / 10 | 9.5 / 10 | 9.5 / 10 | 9.5 / 10 | 8.5 / 10 |
| Designs | 9 / 10 | 10 / 10 | 9 / 10 | 7 / 10 | 9 / 10 |
| Customer support | 10 / 10 | 7 / 10 | 10 / 10 | 7 / 10 | 10 / 10 |
| Easy to use | 10 / 10 | 8.5 / 10 | 9.5 / 10 | 7 / 10 | 9 / 10 |
| Pricing | 10 / 10 | 10 / 10 | 9 / 10 | 7 / 10 | 10 / 10 |
| TOTAL | 9.8 / 10 | 9.0 / 10 | 9.4 / 10 | 7.5 / 10 | 9.3 / 10 |
But of course, this is just my own opinion and I fully respect that you may have another favorite on this list. Feel free to share in the comments. What is the most important feature that the best e-commerce platform should have?